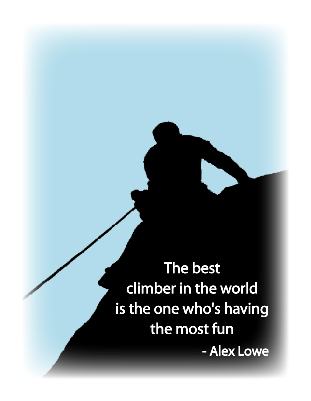 "The best climber in the world is the one who's having the most fun." Alex Lowe said this once and his too-true words have echoed around the world ever since. This famous quote appears as a Limited Edition within the ClimbAddict product line. We'll keep it up for a while, and when we feel like it, away it will go, to be replaced by another design featuring the timely words of those who have gone before us.
This design has text that allows the shirt color to come through, set upon a silhouetted climber(shirts are white, except for kids-size, which offers a choice of white, blue or pink). The climb shot is taken on Bunk Arete, a 5.6 line at Peterskill in Gardiner, New York.
Find products with this design at the ClimbAddict shop in CafePress by hitting the links below:
The Best Climber... Category
Or, go directly to the ClimbAddict Storefront!