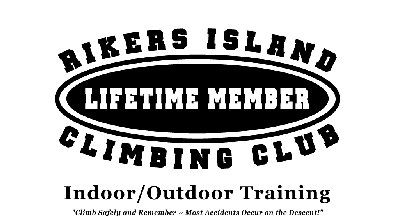 No doubt any climber who ever found themself locked away has looked at those yard walls and at least thought about what it would take to get up and over..... Lucky for most of us, we are happily on the other side and enjoying the pursuit of liberty. Well....at least as long as we can keep the GOP in check and away from using the Patriot Act to it's full extent, anyway. And....if you
do
know someone on the inside....this shirt as a gift might be a good way to rub it in.....
Design is printed in black, with some text allowing the shirt color come through. The last line reads:
"Climb Safely and Remember ~ Most Accidents Occur on the Descent!"
Find products with this design at the ClimbAddict shop in CafePress by hitting the link below:
Rikers Island Climbing Club Category
Or, go directly to the ClimbAddict Storefront!