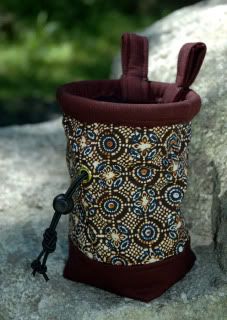 We recently launched our line of chalkbags and have had a great reception from climbers so far. We're using materials I have personally selected, in small lots. Many bags are available only in one or two pieces, and none will be in quantities of more than a dozen. Each bag is finished by hand, with between 30 and 45 minutes hand sewing, as I stitch the inner collar and loops into place.
You can buy our chalkbags directly through the
ClimbAddict Designs website
.
Here are a few images form our current collection: